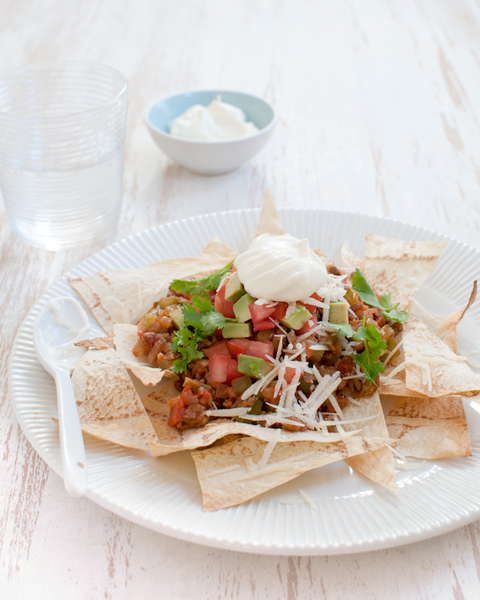 Not So Naughty Nachos Recipe
Not So Naughty Nachos
Nachos are the perfect mix of crunchy, gooey and saucy, flawlessly complementing the flavor of every bite. If you are a nachos fan, this healthy version of the family favourite is for you!
Ingredients
2 Pieces Wholemeal Mountain Bread (50g)
1g Olive Oil Spray
1/2 Onion (73g), finely chopped
1 Celery Stalk (55g), finely chopped
1 Cloves Garlic (3g), crushed
1/2 Teaspoons Chilli Powder (1g)
300g Lean Beef Mince
80g Canned Lentils, rinsed & drained
1/2 X 400g cans Diced Tomato (200g)
1 Tomato (167g), chopped
80g Avocado, chopped
1/4 Cups Fresh Coriander (4g)
1 Tablespoons Extra Light Sour Cream (20g)
1 Tablespoons Parmesan Cheese (7g), finely grated
Method
Preheat oven to 180°C. Cut bread into triangles and place onto a baking tray. Bake for 5 minutes or until crisp and lightly golden.
Meanwhile, lightly spray a frying pan with olive oil and heat over medium heat. Add onion and celery. Cook, stirring often, for 5 minutes or until soft. Add garlic and chilli powder and cook, stirring, for seconds.
Add beef mince and cook, stirring with a wooden spoon to break up any lumps, for 5 minutes or until browned. Stir in lentils and canned tomatoes. Bring to the boil, reduce heat to medium-low and simmer for 8 minutes or until liquid has reduced and thickened.
Combine fresh tomato, avocado and coriander in a bowl.
To assemble, arrange mountain bread crisps on plates and top with beef mixture, salsa and sour cream. Sprinkle with parmesan to serve.
BK's Tips
Think ahead and make extra beef mixture – you could store it in the freezer or reheat it for lunch the next day and enjoy with a side salad.
Member recipes are submitted and checked to make sure they tick all the boxes in terms of health, nutrition, calories and taste.
Want more? There's plenty more where that came from. Home Fitness Network contains over 150+ meal plans and hundreds of quick and easy recipes like this. In addition, you'll gain access to hundreds of workouts that you can complete from the comfort of your own home. Join Now
Are you a BK's   member? You receive discounted access to Home Fitness Network. See here for further information…
If you're located in Victoria and living in a suburb under lock-down, we'd like to offer you FREE access to Home Fitness Network during the lock-down period. Get in touch with your local BK's to request your FREE access.