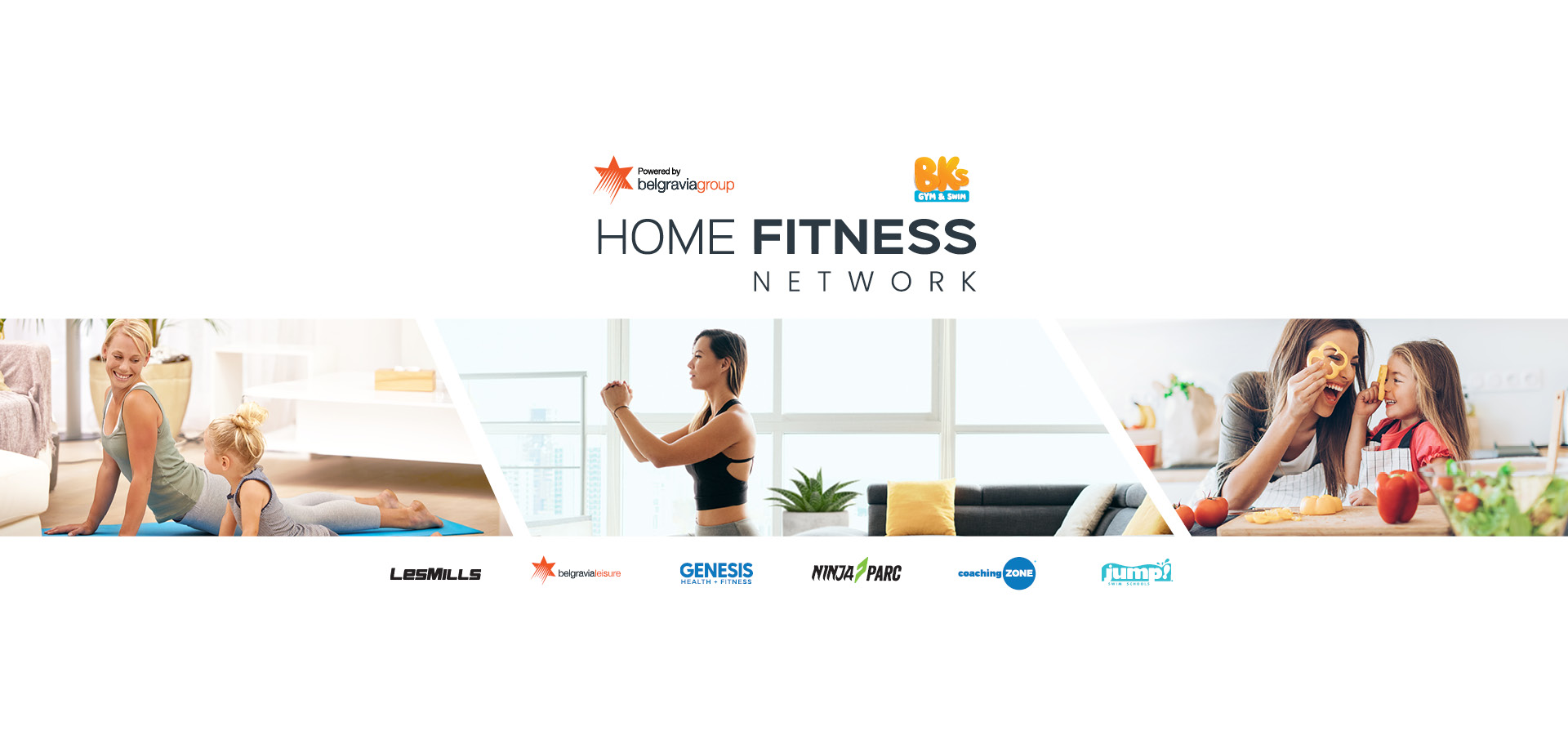 Home Fitness Network combines exercise, nutrition and community support in one place – bringing OUR place, to YOUR place
Introducing Home Fitness Network! Powered by Belgravia Group, Home Fitness Network is a collaborative online platform, developed in conjunction with our partners Les Mills and the Belgravia Group family – Belgravia Leisure, Genesis Health & Fitness, Coaching Zone, Ninja Parc, JUMP! Swim Schools, BKs Gym & Swim.
During this period of disrupted access to swimming and gymnastics facilities, we're here to support you in maintaining your physical & mental health through our brand new online, at home fitness solution! Join now & enjoy:
✔️ Exclusive swimming content and training programs provided by Belgravia Kids, Belgravia Leisure and Jump Swim Schools instructors
✔️ Exclusive gymnastics content and training programs provided by Belgravia Kids Coaches
✔️ Exclusive workouts from Genesis Health + Fitness, Coaching Zone and Fitness & Belgravia Leisure trainers
✔️ Access to Genesis Health + Fitness nutrition portal with hundreds of recipes & over 150 meal plans
✔️ Access to 100+ Les Mills Workouts
✔️ Weekly health & fitness advice delivered via email
✔️ Access to Ageless Actives programs, to suit all fitness levels
✔️ Articles & features, to keep you informed on all things health and fitness
✔️ Dedicated Spotify playlist, to keep you grooving whilst you're moving
✔️ Direct contact centre support if you need help or advice
It is your ultimate online playground. Wherever you are, whatever you do, we are here to work with YOUR schedule. Our workouts, nutrition, advice & music are available 24/7 online!
Join for just $7.50 per week: https://belgraviahomefitnessnetwork.com/
Are you a BK's Gym and Swim family? Access Home Fitness Network for just $5 per week; check your email (including your junk – just in case), for more info!
If you're located in Victoria and living in a suburb under lock-down, we'd like to offer you FREE access to Home Fitness Network during the lock-down period. Get in touch with your local BK's to request your FREE access.