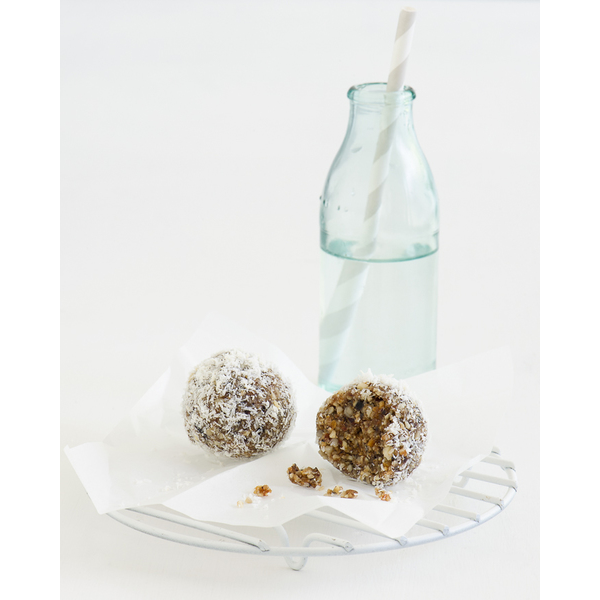 Note that this recipe makes 30! These store well in the freezer, or else you can just cut the recipe down to make less serves. This snack is brilliant for combating that afternoon 'chocolate' craving or boosting your energy levels after a hard gymnastics and swimming lesson. They are vegan and gluten friendly too!
Ingredients
1 Cups Raw Cashew Nuts (140g)
1 Cups Almonds (165g)
1 Cups Sunflower Seeds (150g)
2 Cups Dried Dates (300g)
1 Cups Dried Currants (170g)
1 Teaspoons Vanilla Essence (5g)
1/2 Cups Desiccated Coconut (38g)
Method
Process the nuts and seeds in a large food processor bowl until finely chopped.
Add the dates, currants and vanilla essence and process until almost smooth and sticky.
Roll into 30 walnut sized balls or 60 smaller balls.
Coat with coconut.
BK's Tips
It may be easier to process the nuts in small amounts first so you don't overheat your food processor. The balls will keep in the fridge for up to 4 weeks.
You can use peppermint essence instead of vanilla essence, if you wish.
Member recipes are submitted and checked to make sure they tick all the boxes in terms of health, nutrition, calories and taste.
Want more recipes?
There's plenty more where that came from. Our online platform, Home Fitness Network contains over 150+ meal plans and hundreds of quick and easy recipes like this.
When you join Home Fitness Network you also gain access to hundreds of workouts that can completed from the comfort of your own home.  Join Now
Are you a BKs Gym Swim member? You receive discounted access to Home Fitness Network. See here for further information…