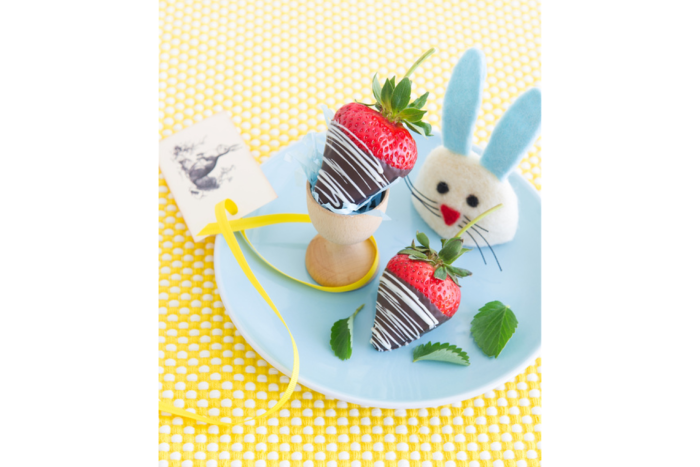 Chocolate Dipped Strawberries Recipe
Who doesn't love a chocolate-dipped strawberry? At just 35 calories per serving, these little numbers make the perfect treat.
Ingredients
500g Strawberries, with stalks
100g Dark Chocolate, roughly broken
25g White Chocolate, roughly broken
Method
Line a large tray with non-stick baking paper.
Place dark chocolate into a small heatproof bowl. Melt in microwave on high for 1 minute. Stir then microwave for a further 30 seconds to 1 minute, or until chocolate is melted and smooth.
Working one at a time, dip two-thirds of each strawberry into chocolate. Drain off excess and place on prepared tray.
Melt white chocolate the same way as dark chocolate. Spoon into a small piping bag. Snip off the tip and drizzle each strawberry with white chocolate. Refrigerate for 10-15 minutes or until chocolate has set. Serve.
BK's Tips
Depending on your dietary requirement, you may use different chocolate (e.g sugar free, dairy free etc)
These choc-dipped strawberries will keep in an airtight container in the refrigerator for up to a week.
Want more? There's plenty more where that came from. Home Fitness Network contains over 150+ meal plans and hundreds of quick and easy recipes like this. In addition, you'll gain access to hundreds of workouts that you can complete from the comfort of your own home. Join Now
Are you a BKs Gym Swim member? You receive discounted access to Home Fitness Network. See here for further information…