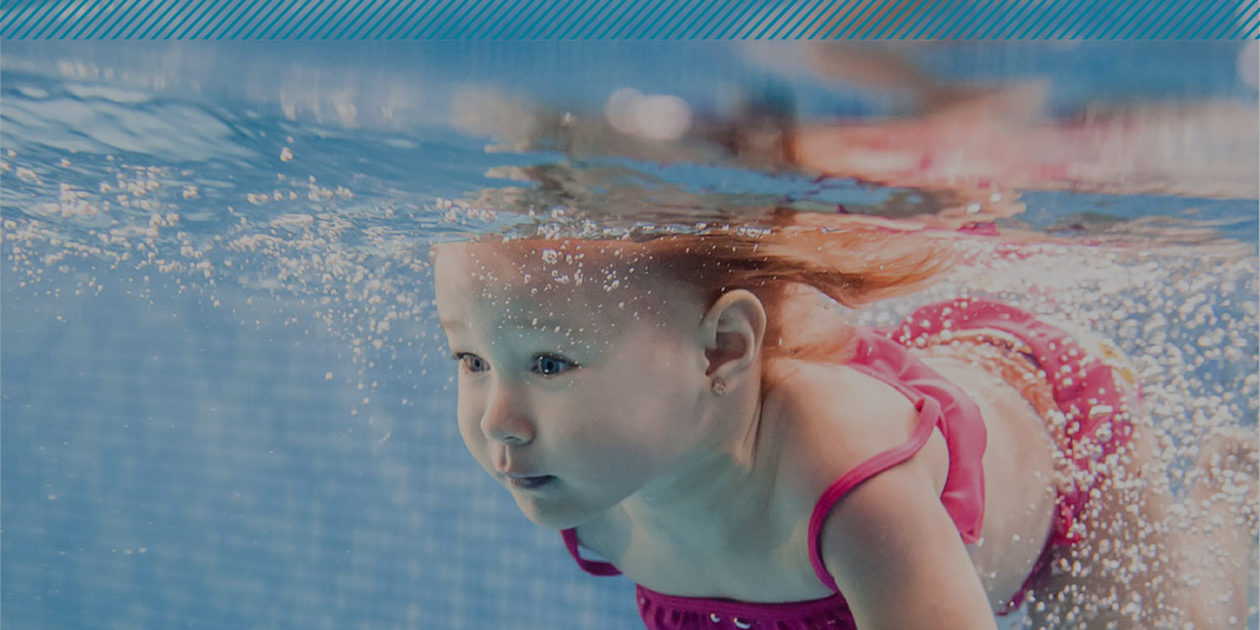 What to expect at baby swimming lessons
If you're planning to or thinking about introducing your baby to swimming lessons from an early age (3 months+), the experience is much different to starting a child at an older age. It can be a wonderful and beneficial experience for both baby and parents and give a child a huge head start and life-saving water skills from a very young age.
Firstly, you'll be in the water with your little one, so the lesson is a great bonding time.
In each lesson, you can expect a series of activities that aim to improve baby's confidence, breath control, buoyancy and mobility.
It can seem like a lot of singing and games, but so much is being developed with every activity, for example:
A welcome song with hand splashing helps to set the scene for baby and the splashing of hands gets them used to the feeling of having water on their face. There's a lot of singing in baby swim classes as it assists to keep baby calm and happy in the pool environment and also creates cues, so they know what to expect.
Cup pours. By first pouring a small cup of water gently over baby's ears, hair and shoulders, and eventually over their face, you can condition children to be comfortable in and around the water and introduce them to the concept of submerging and holding their breath.
Ball collection. 'Chasing' down brightly coloured floating balls in the pool introduces baby to the feeling of their buoyancy in the water. As they develop, this activity helps to get baby moving in the water, kicking and reaching.
Most babies really enjoy the water but the key is to follow your baby's cues and take it one small step at a time. Most activities can be modified according to your baby's comfort level and your swim teacher will help guide you.
The use of verbal and physical cues by both the teacher and you (with the teacher's guidance) will help baby learn and prepare for what's about to happen. It's amazing how quickly they learn; using these cues, babies can be closing their eyes and mouth from a very young age, ready to submerge.

From the age of 3 months up to approximately 9 months, the main goals of baby swim lessons are to help baby:
Accept water
Be comfortable with water on their face
Hold their breath for up to or equal to 5 seconds
Have very basic mobility skills
Float on their back with support.
By 9 months, baby should be able to comfortably submerge to a teacher and be kicking and reaching.
The great bonus at this age is that most of the skills can also be practiced in the tub at home during bath time.
Enrolling your kids in our baby swimming program is the most essential step in setting them up for a lifelong love of water. 
Get in touch with your local BK's Learn to Swim centre today, to get started!