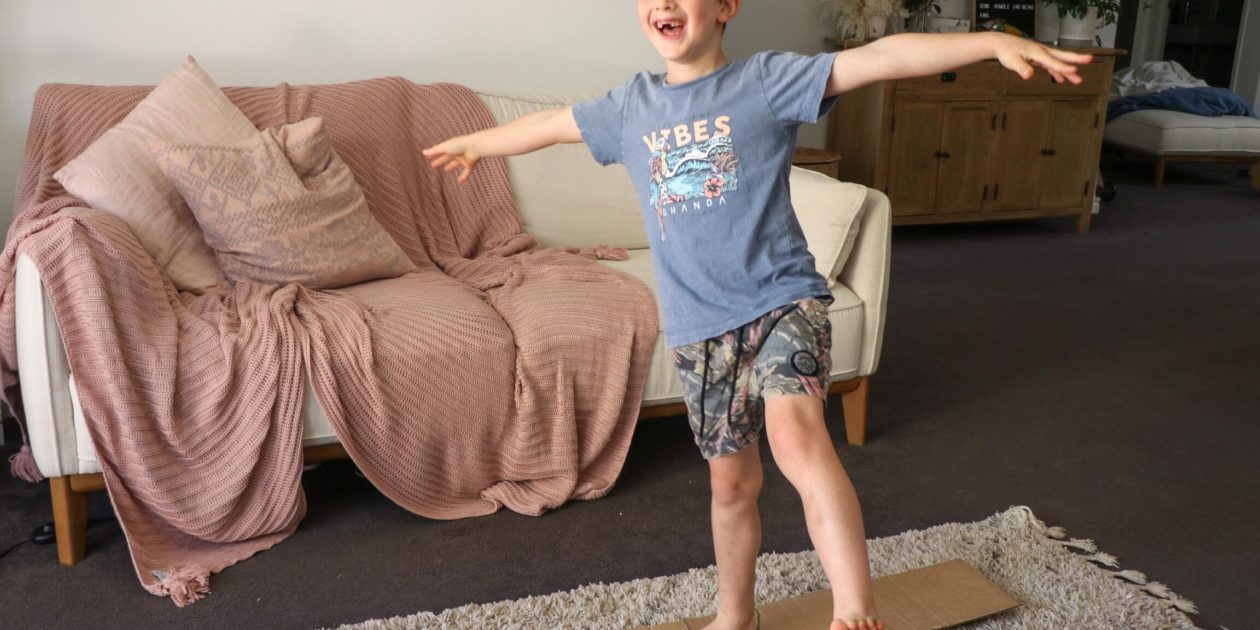 At-home gymnastics routine for aspiring little Olympians in lockdown
If your kids have been watching Tokyo Olympics on TV and using the coffee table as a balance beam and the couch as a trampoline (and want to start early for Brisbane 2032) – listen up, we have a gymnastics lockdown balance beam activity you can do in your loungeroom.
Gymnastics not only gets kids moving, it can improve their core movement skills – including balance, coordination and core strength – and offers mental benefits too, as it requires kids to focus, problem-solve and provides a great sense of achievement and progress. This makes it the perfect lockdown activity!
Making a beam:
What you will need:
Old cardboard box
Ruler
Marker
Scissors
Sticky tape
How To:
Using your ruler mark out 10cm rectangles (It's recommended to only use the flat parts)
Using your scissors, cut out the shapes out
Now, using your sticky tape, stick the short edges together to make one long beam
Place on the floor and stick down the edges (so it doesn't slip)
You can also use masking tape or simply a line on the floor if you already have one!
Activities/Routines:
For younger kids, it is great to use visuals and hand-held apparatus and the aim is to focus on them balancing. A great tip is to print and cut out some crocodiles and place them around the beam – this makes it fun not to 'fall in'
Example:
Moves:
Walk up to the first object (can use a ball or small soft toy) pick it up, throw it in the air and catch it, place it back on the beam and step over the top of it.
Walk to the second object, pick it up and pass it through your legs, place it back down and step over the top
Walk to the X, once there, turn all the way around, squat down and touch the beam, stand up and clap three times
Walk to the foot (you can draw this on the beam or make one from the leftover cardboard) and balance on one foot for three seconds
Walk on tip toes, with your arms stretch out to the side, to the end of the beam, jump off and land on bent knees with arms in front (this is what we call a motorbike shape!) then stretch up and say TA DA J
To make it a bit harder:
Mount – starting on the floor at the end of the beam, place hands on the beam (like a butterfly) and jump feet together to a squat shape, stand tall
Passe steps x 4 – Hands on hips, lift one toe to a knee, stretch leg straight and step
Straight jump – With feet together, swing arms next to ears and jump up to land on the same spot with bent knees, arms stretched in front
Walk in releve.- walk forward on toes, arms stretched to the side, to the end of the beam
½ Turn in releve – With feet together (one slightly in front of the other) lift onto toes and turn toward the back foot
Dismount – jump backwards and land on bent knees with arms in front (this is what we call a motorbike shape!)
When we're all allowed to head back to our usual activities, you'll find BK's Gymnastics centres across Australia with programs for kids from 3 months to 12 years+