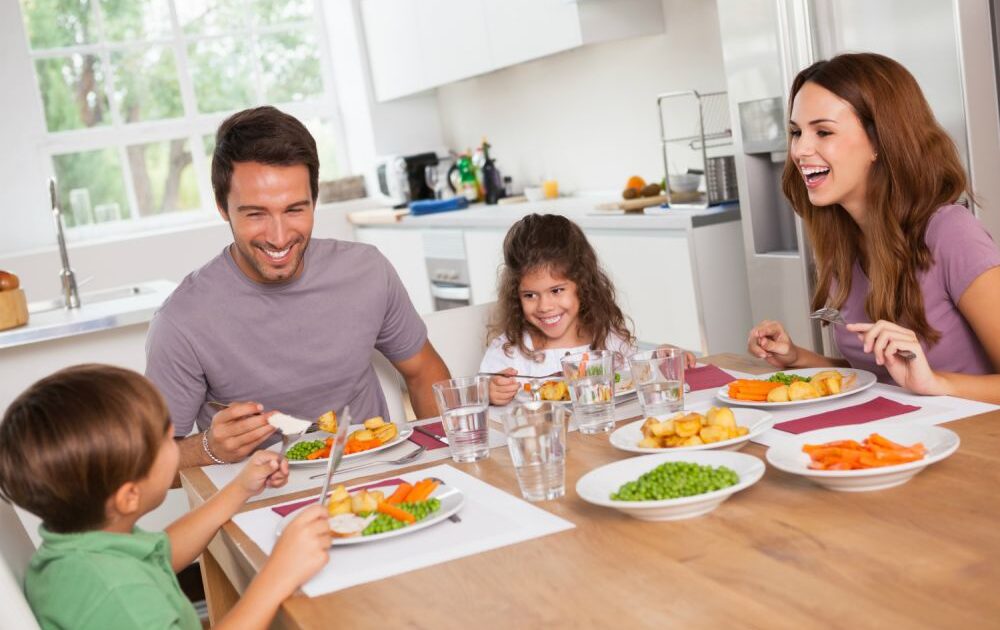 Nutrition tips for the whole family
A healthy family is built on a healthy diet. In this article, we're going to look at some good nutrition tips for the whole family.
Replace juice, cordial and fizzy drinks with water – Water is the very best drink for toddlers and older children. Fruit juice, fizzy drinks and cordial contain a lot of unnecessary added sugar that can lead to tooth decay and weight gain. Get everyone in the family drinking water as their main drink. When your children see you doing it, they're likely to do it too. You can also add ice cubes and/or pieces of frozen fruit to make it more appealing for your kids (and the adults!).
Make protein the base of your meal – Proteins such as lean meats and fish should be the base of everybody's meals. They're filling and provide the whole family with the building blocks they need for a strong and healthy body.
Eat together as a family – When the whole family sits at the table together to share a meal, kids are not only developing healthy attitudes towards food, they're more likely to make healthy food choices throughout life. During mealtimes, kids also have an opportunity to practise their table manners and develop conversation skills. Studies have also linked frequent family meals to improved language development and academic success.
Keep junk food out of the house – If junk food is in the house, it will be a temptation and will be eaten. Instead, order a special treat for the family via your favourite home delivery service (if you're in lockdown), or go out to enjoy a special treat with the family … and enjoy the time off cooking! This stops you falling into mindless eating and keeps unnecessary temptation away.
For healthy recipes and activities for the kids, check out our new online platform, Home Fitness Network. It contains meal plans, recipes, health and fitness tips, at-home workouts and so much more! For more information, click here
Are you a BK's member? You receive discounted access to Home Fitness Network. See here for further information.
If you're located in Victoria and living in a suburb under lock-down, we'd like to offer you FREE access to Home Fitness Network during the lock-down period. Get in touch with your local BK's to request your FREE access.